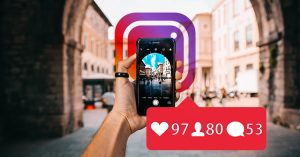 Is promotion on Instagram free and on your own — real? Yes! But don't expect to have very many, 50,000 «live» subscribers in a month. In the best case, if you try very hard, you can recruit 1000-3000 people per month to your account using free methods (if you are not a star or you were promoted by a large account). And this is all without cheating! Your main investment will be your time and effort.
Instagram promotion free 2020
You cannot forget about free methods, even when you are doing paid advertising for promotion on Instagram. We need beautiful photos and videos, interesting texts. To design posts in the same style, you can use programs for Instagram.
What are the methods of self-promotion of an Instagram account for free?
To get «live» subscribers without cheating, they most often use: Statistics, Hashtags, SFS, interactive (polls, contests, etc.), viral content, Stories, other social networks and, of course, high-quality content (without it, you can not take up the promotion, because then there is nothing to untwist).
Less obvious, but very important elements for free promotion: keywords in the title and description, geotags, content design, comments in promoted accounts, offline promotion.
Let us examine all these methods in more detail.
Keywords in the name and description of the account
Key words in the title («Username») and description («About me») of the account can be important for promotion in natural search on Instagram. Keywords are the words by which potential subscribers can find you. For a clothing and accessories store — dresses, bags, shoes. For a flower shop — flowers, bouquets. Etc. And for bloggers, the important thing is a name (if you are already promoted a little) or an emotionally «catchy» phrase.
You can also use Emodzi to attract attention. But don't overdo it! Too many Emoji have the same effect as «!!!» at the end of every second sentence.